Products
Serving the Tri-state areas of New York, New Jersey, and Connecticut, DAY Elevator & Lift is a leading accessibility equipment supplier of both new and certified pre-owned stair lifts. The indoor and outdoor stair lifts we supply ensure a safe, smooth, and comfortable ride in different kinds of settings.
Support Clients from Different Areas
At DAY, we support a wide range of clients – contractors, architects, builders, home owners, and more. We stock stair lifts from leading manufacturers in the industry such as Savaria, Bruno, and ThyssenKrupp Access. We have different models of stair lifts designed to suit different environments and building design. These include straight and curved stair lifts. Whatever the challenge you face, we have the stair chair lift to meet it.

The stair lifts we offer are practical, strong, safe and durable. We can work with you or your designer to customize the model you choose to blend with the structure and decor of your building. The accessibility equipment you buy from us ensures you a hassle-free and active lifestyle, and also enhances the value of your home.
Choose from Our Wide Selection of
Stair lifts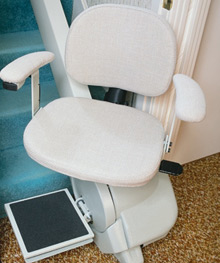 ThyssenKrupp Access

Flow II
Citia
Stair-Glide
Each model comes with standard safety features such as seat belt, obstruction sensors, seat swivels, pressure controls, final limits switches, and much more. We offer comprehensive and personalized service including prompt installation, maintenance, and repair for all your accessibility equipment. Please call us on (800)758-5438 for friendly advice or a free solutions consultation.

Client Support
Our Product Line