Savaria Stair Lifts
DAY Elevator & Lift, a reliable stair lift company based in New York, offers premium quality stair lift systems from Savaria. Our extensive product catalog of Savaria stair lifts comprises two models-the Step-Saver stairlift and B.07 stairlift.
Step-Saver Stairlift
The Step-Saver stairlift can be easily installed on straight stairways inside residences. Its neutral design and upholstery perfectly blends with your home décor. This easy-to-use residential stair chair lift comes with a reliable rack and pinion drive system to ensure a smooth ride. Constant charge battery powered operation ensures the lift is ready for use even during a power failure.
Other innovative features and specifications of the Step-Saver home stair lift system are: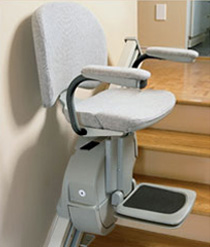 Continuous pressure operation
Non-skid footrest
Swivel seat that locks in at 45 and 90 degrees
Wireless infrared controls at both landings
Seat swivel switch and seat belt
Obstruction sensors stop the lift whenever it encounters an obstacle in its travel path
Flip-up seat and foot rest allows to keep the unit compact when not in use
Safety brake
Unit can be easily mounted on the left or right side of the stairs (field reversible)
Capacity: 300 lbs (136 kg)
Maximum travel distance: 32' (9.75 m)
Nominal speed: 20ft/min (0.10 m/s)
B.07 Stairlift
Savaria's B.07 Stairlift makes homes and commercial buildings easily accessible for people who have trouble with stairs. This versatile stair lift system offers smooth and safe indoor as well as outdoor access along a straight run stairway. With AC drive and battery-powered options, this straight stair lift system includes standard features and high-end safety options such as: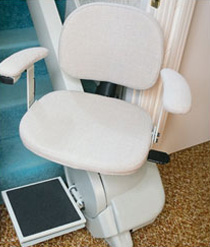 45° and 90° swivel seat at top and bottom landings
Adjustable seat and footrest height
Safety brake on carriage
Seatbelt with positive locking mechanism
Aluminum extruded rail
Seat swivel switch
Non-skid footrest
Sturdy construction
Wall-mounted call/send controls
Continuous pressure operation
Foldable footrest
Flip-up padded armrests
Unit is completely reversible on site for quick installation
Obstruction sensors
ABS plastic carriage covers
The outdoor package of this stair chair lift comes with a vinyl cover and keylocks.
Professional Installation Service
DAY offers professional installation, prompt inspection, maintenance and repair services for all models of stair lifts systems including the Step-Saver stairlift and B.07 Stairlift from Savaria. We also witness or perform Category 1 and 5 testing for stair chair lift systems.
For Additional Information
For more information on Savaria Stair Lifts and the other mobility solutions we supply, call 800-758-5438 or send an email to sales@dayelevator.com. DAY's products and professional services are available in the Tri-State area of New Jersey, New York and Connecticut.

Client Support
Our Product Line