Outdoor Stair Lift
An attractive outdoor stair lift of premium make can add more style and comfort to your settings. Visit DAY Elevator & Lift, an established accessibility product dealer in the US, to browse our wide range of mobility products for homeowners, builders and architects.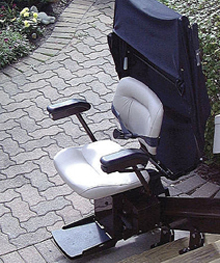 Handicap Outdoor Stair Lifts - Equipped with Safety Features
We give top priority to the needs and comfort of our customers. DAY's premier brands of stair lifts for outdoor use are equipped with great safety features. Most of these products come with protective seat belts, exclusive loading capacity and electrical enclosures. Bruno's Outdoor Electra-Ride stair lift is a premium brand outdoor stair lift model you can buy from us. They come with advanced weather resistant cover system, ensuring lasting performance. Their powder coated paint gives extra protection in any weather conditions. You can comfortably operate them at a maximum speed of 32 feet per minute and loaded speed of 25 feet per minute.
We also offer battery powered and electric stair lifts for outdoor use. The Step Saver Straight Stair Chair from Savaria and ThyssenKrupp Access's Stair Glide Stair Lift are some of the other quality models you can buy from us.
Prompt and Reliable after Sales Services
DAY offers prompt, safe and professional services at your convenience. We have a team of professionals with excellent expertise to provide quality installation, repair and maintenance services for any outdoor stair lift you buy from us. Our services are available anywhere in the Tri-State area comprising New York, New Jersey and Connecticut.
Call Us Today!
You can reach us on phone at 1-800-758-5438 or email us at sales@dayelevator.com, for more information about our quality outdoor stair chair lifts. To schedule an appointment with us, all you have to do is to fill out our Free Consultation Form.

Client Support
Our Product Line