Savaria Step-Saver Stairlift
DAY Elevator & Lift is a leading distributor of premium models of elevators and lifts in the Tri-State area of New York, New Jersey and Connecticut. Our extensive product inventory features the exclusive Step-Saver Stairlift from the well-known manufacturer, Savaria. Designed for straight stairways, this quick and easy-to-install home stair lift comes with constant charge battery-powered operation, so that it is ready for use at any time, even during a power failure. The reliable rack and pinion drive system ensures a smooth and comfortable ride along the stairway.
Elegant
Indoor Stair Lift System
for Homes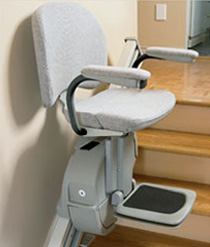 The Savaria Step-Saver Stairlift can be installed on either the left or right side of a straight stairway without the need for major construction. This elegant residential stair chair lift comes with the following advanced features and specifications:
Continuous charge system along the travel rail
Safety brake and seat belt
Two easy-to-use infrared remote controls to operate or call the lift to position
Fold-up seat and footrest: the lift can be folded to the wall when not in use, leaving the stairways unobstructed
Continuous pressure operation
Swivel seat that lock in at 45 and 90 degrees
Maximum travel distance of 32' (9.75 m)
Capacity: 300 lbs
Ensures Efficient Installation Services
DAY Elevator & Lift is committed to providing innovative accessibility solutions and personalized customer service. Our skilled factory-trained technicians can ensure installation of the Step-Saver and other straight stair lifts in compliance with local and national codes. DAY also takes care of inspection, maintenance and repair to ensure the flawless functioning of your equipment. We also perform or witness Category 1 and 5 testing for all models of stair lifts.
Contact Us
For more information on the Step-Saver Stairlift and the other accessibility options that we offer, dial (800) 758-543, or send an email to sales@dayelevator.com. If you wish to schedule a free consultation, please fill out the consultation request form.