Electric Stair Lift
If you are looking for a premier elevator and lift dealer that can provide electric stair lifts, then DAY Elevator & Lift is the right option. Serving the New Jersey, Connecticut, and New York metro areas, DAY Elevator & Lift provides electric stair lifts for the home as well for your commercial buildings.
To date, we have provided invaluable services to homeowners, prestigious home contractors, architects and designers, and have assisted them in project design, product selection and installation processes.
Electric Stair Lifts
from Leading Manufacturers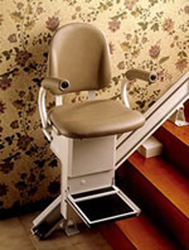 Electric stair lifts from world-class manufacturers such as ThyssenKrupp Access and Savaria are available here. With many different choices available, both curved stair lifts and straight stair lifts, you will not find any difficulty in finding the perfect stair chair lift model that suits your requirements.
ThyssenKrupp Access Stair Lifts

Citia Stair Lift
Stair-Glide Stair Lift
Excel Stair Lift
Ensures Safe and Smooth Access
Designed for optimum comfort and safety, our electric stair lifts are a sensible choice for both residential and commercial purposes. Stair lift models available with A/C and battery options are also offered. Most models come equipped with a range of safety and comfort features.
As a full-service elevator and lift company, we can work directly with you to install your electric stair lifts or assist your architects and contractors.
Please fill out the Free Consultation Request form to schedule your complimentary consultation. For more information, call 1-800-758-5438 or send an e-mail to us at sales@dayelevator.com.