Bruno Electra-Ride II Stairlift
DAY Elevator & Lift, an established distributor of mobility devices in the Tri-State area of New York, New Jersey and Connecticut, offers elegant and user-friendly stair lift systems from top manufacturers. Bruno's Electra-Ride II Stairlift is a straight rail stairlift that provides a safe and comfortable ride through the stairs of your home.
User-Friendly
Residential Stair Chair Lift
with Advanced Features

The Electra-Ride II Stairlift is popular for its subtle operation, safety, durability and reliability. The unique design of this residential stair chair lift makes going up and down stairs a pleasure. Electra-Ride II straight stairlift comes with a powerful rack and pinion drive system to ensure a smooth ride.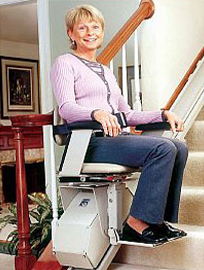 It can be installed on either side of the staircase with simple modification. This battery-powered home stair lift comes with several high-end safety options and advanced features such as:
Self-locking worm gear, rack and pinion drive
Swing-away arms for easy wheelchair transfers
Contoured seat for optimum comfort
Footplate safety sensor and seat belt
Adjustable armrest width
Soft start, solid-state controller to adjust speed
Charging station indicator lights at the top and bottom of the stairway
45 to 90 degree seat swivel at the top and bottom of the stairs
Two wall attachable wireless call/send controls
Adjustable seat height (from 22.5 inches to 25.5 inches)
Armrests that swing out independently for easy wheelchair transfer

This Bruno stair lift is designed to meet ANSI A-18.1 residential requirements, as well as all public building specifications (with the optional commercial package). Bruno offers a five year warranty for major components and two years on parts on this home stair lift model. Electra-Ride II can work even during power outages as it comes with two 12-volt batteries, continuously charged by a 2A battery charger that plugs into any household outlet.
Benefit from DAY's Customer-oriented Services
DAY's responsibility does not end with providing quality mobility solutions. We offer trouble-free installation, inspection, maintenance and repair service for all models of stair lift systems. We evaluate your site and accessibility requirements, and help you choose a suitable stairlift system. We also perform or witness category 1 and 5 testing for all models of stairlifts.

For more information on Electra-Ride II Stairlift and the other models of Bruno stair lift systems in our inventory, call (800) 758-5438, or send an email to sales@dayelevator.com.

Client Support
Our Product Line