Bruno Stair Lift
DAY Elevator & Lift offers quality stair lifts to efficiently resolve all your mobility needs. The Bruno stair lift, suitable for both residential and commercial facilities, is one of our premium products.

Serving the Tri-State area of New Jersey, New York and Connecticut, we offer efficient installation and maintenance services for all the products we supply. Call our toll free number 1-800-758-5438 or send an e-mail to sales@dayelevator.com for more information about Bruno stair lifts.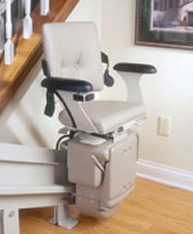 Safe and Reliable
Bruno Stair Lifts
Bruno stair lifts stand out as a hallmark of quality and reliability. The straight chair lifts and curved stair lifts from this well-known manufacturer come with safety features like push button controls, safety sensor panels, seat belts and safety switches to help you access multi-storied building with confidence and ease. The models of Bruno Electra-Ride stair lifts we supply include:
Finely Crafted
Outdoor Stair Lift
The Bruno Outdoor Electra-Ride Elite is designed for easy access to your front door and deck. This outdoor stair lift is capable of delivering outstanding performance under various climatic conditions.

Along with the brand new models, DAY provides a selection of pre-owned products. We buy used stair lifts, upgrade them and offer them with FULL 1 year warranty.

Enjoy the comfort and convenience of a premium Bruno stair lift in your environment. Schedule a free consultation with us today!

Client Support
Our Product Line