Savaria B.07 Stairlift
As an established stairlift company in the United States, DAY Elevator & Lift offers easy to use mobility solutions for safe floor to floor access in residential and commercial facilities. Our wide product inventory includes the B.07 Stairlift, a premium stair chair lift system from the well-known manufacturer, Savaria.
Ideal
Straight Stairlift
for Residential and Commercial Use

The Savaria B.07 Stairlift is a versatile mobility solution that can be used to resolve indoor and outdoor accessibility issues in residential and commercial buildings. This sturdily built stair lift system can be easily installed on either side of straight stairway configurations without major structural modifications. To ensure smooth floor to floor movement, this straight stair lift comes with advanced safety options and innovative features such as: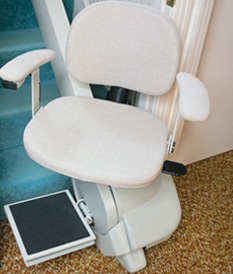 Non-skid footrest
Safety brake on carriage
Obstruction sensors
Seat belt with positive locking mechanism
45° and 90° swivel seat at top and bottom landings
Wall mounted call/send controls
Flip-up padded armrests
Swivel seat handle (reversible side)
Adjustable seat height
120 VAC operating system with traveling cable
Constant pressure control switch on armrest (reversible side)
Aluminum extruded rail
ABS plastic carriage covers
Adjustable footrest height
Adjustable arms for spacious seating area
With a standard loading capacity of 300 lbs that can be upgraded up to 400 lbs, the robust B.07 Stairlift is available as an AC-powered unit, or a battery-powered one that is suitable only for indoor residential use. Optional equipment includes vinyl seat upholstery, outdoor package with vinyl cover and keylocks, 24 VDC battery-powered system with constant battery charge along the rail and wireless call/send controls.
Professional Services to Meet your Requirements
DAY Elevator & Lift offers professional services for stair lift systems including installation, maintenance, inspection, and repair services for a wide clientele including homeowners, developers, builders and architects. Our certified technicians evaluate your site and install your stairlift with the least structural modification. We also perform or witness Category 1 and 5 testing for all models of stair lifts. Our exclusive range of products and personalized services are available in the Tri-State area of New York, New Jersey and Connecticut.
Contact Us
For more information about the B.07 Stairlift from Savaria and the other accessibility solutions we offer, call 800-758-5438 or write to us at sales@dayelevator.com. To schedule your complimentary consultation with us, please fill out the free consultation request form.