Bruno Electra-Ride Elite Stairlift
Based in New York, DAY Elevator & Lift, an established dealer of mobility solutions, offers premium models of lifts and elevators. Our range of innovative residential stair lifts includes the stylish Electra-Ride Elite Stairlift from the leading manufacturer, Bruno. Ease of use, ultra compact design and excellent performance are features that distinguish the Electra-Ride Elite Straight Rail Stairlift.
Exclusive
Home Stair Lift
System with Innovative Features

The Bruno Electra-Ride Elite Stairlift is a perfect blend of elegance and reliable operation. This home stair lift is a standalone device that comes with automatic controls and an extremely smooth and powerful drive system to ensures safe and convenient floor to floor access. The installation of this ultra-compact stair lift system requires no modification of your staircase. It comes with a range of innovative features: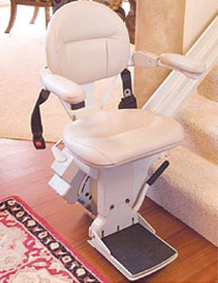 Highly powerful obstruction sensors
Offset swivel seat for safe and easy entry and exit at the top landing
Honeycomb rail design for improved stability; design also hides all mechanical components
Flip-up arms for easy transfer from a wheelchair
Adjustable footrest height
Self-locking worm gear; rack-and-pinion drive
Retractable seat belt
Two 12 volt batteries that be plugged into any household outlet ensure uninterrupted performance even during a power outage
Remote controller installation
Two remote, wireless call/send controls ensure simple and clean installation
Can accommodates weight of around 400 lb
Quality Installation and Maintenance Service
DAY Elevator & Lift strives to deliver quality customer service. We provide hassle-free installation service for stair lift systems. Our experienced technicians can also carry out timely inspections and maintenance to minimize equipment downtime. We also perform or witness Category 1 and 5 testing for all models of stairlifts. Our exclusive range of products and quality services are available to customers in the Tri-State area of New Jersey, New York and Connecticut.
Get in Touch with Us
For more information about the Electra-Ride Elite Stairlift from Bruno and the other accessibility devices we supply, call 800-758-5438, or write to us at sales@dayelevator.com.


Client Support
Our Product Line