Indoor Stair Lift
DAY Elevator & Lift offers premium brands of stair lift models as a practical solution for those who face mobility constraints. As an established accessibility equipment dealer, we provide quality services throughout the Tri-State area comprising New York, New Jersey and Connecticut.
Feel Secure with Reliable
Stair Lifts
The indoor stair lifts we supply come with a wide range of customization features. They are equipped with all safety features including power swivel seat, safety sensors, retractable seat belts and emergency stop switches for the complete safety of the users. DAY's extensive product line includes indoor stair lifts of all models such as curved stair lifts, electric stair lifts and straight stair lifts for use in any type of stairways.
Here are some of the premium brands of indoor stair chair lifts you can purchase: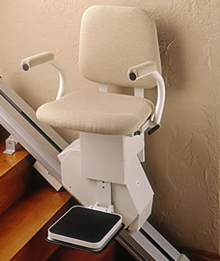 ThyssenKrupp Access Stair Lifts

Stair-Glide Stair Lift
Excel Stair Lift
Flow II Stair Lift
Citia Stair Lift
Premium after Sales Services
Our services are specially tailored to meet the unique demands of our customers. We consistently maintain a standard of excellence in our services, providing timely repair and maintenance, apart from installation services to ensure that the products you buy from us function flawlessly.
Schedule an Appointment with Us Today
Add more style and functionality to your home and commercial interiors with DAY Elevator & Lift's standard indoor stair lift models. For more information, please call us now at our toll free number 1-800-758-5438, or send an email to sales@dayelevator.com. Just fill out our Free Consultation Form to schedule an appointment with us.

Client Support
Our Product Line