Bruno Outdoor Electra-Ride Elite Stairlift
DAY Elevator & Lift offers an exclusive range of accessibility devices to ensure the elderly and the mobility impaired safe and comfortable access in and around their homes. Our inventory includes the elegant Outdoor Electra-Ride Elite Stairlift from Bruno. This compactly designed home stair lift system ensures you easy access to and from the outdoors – the front door to the sidewalk or the cabin door to the boathouse.
Perfect
Home Stair Lift
System to Safely Access Residential Outdoors

The Bruno Electra-Ride Elite Outdoor Stair lift is reliable, safe, and. easy to operate. It is durable and designed to withstand all complex outdoor weather conditions. The Bruno stair lift system's honeycomb rail design allows you negotiate the stairways outside your residence comfortably. This outdoor stair lift comes with many premium features such as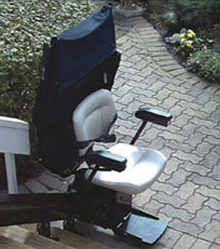 Two remote, keyed, and wireless call/send controls
Footrest and carriage safety sensors and retractable seat belt
Locking swivel seat at the top and bottom of the stairway
Onboard audio and visual diagnostics for easier and more precise service
Adjustable footrest height
Contoured seat for optimum convenience
Flip-up arms for easy wheelchair transfers
Adjustable seat height for easier entry/exit at the top and bottom of the stairway
Adjustable armrest width
Durable powder coat outdoor paint: effectively protects all steel and aluminum surfaces
Stainless steel and exterior grade hardware
Two 12V batteries that can be charged easily in any 110V household current to enable operation even during power outages.
An innovative feature of the Bruno stair lift system is its weather resistant cover designed to move with the chair, enabling easy ON/OFF operation and protection from the elements when lift is not in use.
Professional Installation Services
DAY Elevator & Lift offers professional installation services for stair lifts systems. Our technicians evaluate your site and install the Electra-Ride Elite to suit your requirements. Our expert services are also available for the inspection and maintenance of your accessibility device. We witness or perform category 1 and 5 testing for all stairlift systems.
Call Us Today
For more information about the Outdoor Electra-Ride Elite Stairlift from Bruno and other accessibility options that we offer, please call (800) 758-5438 or send an email to sales@dayelevator.com. DAY's quality products and services are available to customers in the Tri-State area of New York, New Jersey and Connecticut.

Client Support
Our Product Line