Bruno Electra-Ride III Stairlift
As a leading stairlift company in New York, DAY Elevator & Lift offers premium accessibility devices for people with restricted mobility. Our extensive product line features the Electra-Ride III Stairlift from the leading manufacturer Bruno. The unique design of this custom curved rail stairlift is both technically and aesthetically superior.
Innovative
Home Stair Lift
System with High-end Features

The Bruno Electra-Ride III Stairlift is the answer to the challenge that a curved stairway presents. The elegant, curved rail is assembled and tested by the manufacturer to ensure that it fits the exact measurements of your staircase.

Designed with a strong, resilient drive system, this home stair lift system ensures remarkable stability and long-term durability. To provide safe and comfortable access on any stairway configuration, this curved stair lift comes with advanced safety options, easy-to-operate controls and an array of premium features. These include: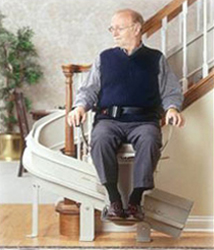 Footrest and carriage safety sensors to instantly halts the lift when an obstruction is encountered
Retractable seat belt
Locking swivel seat
Adjustable armrest width
Self-locking worm gear; rack-and-pinion drive
Flip-up arms for easy wheelchair transfer
Two remote, wireless call/send controls
Soft-start, soft-stop for maximum user comfort
Powered by two 12V batteries that are charged continuously for uninterrupted stairway access even during power supply breakdown
Accommodate rider weight of up to 400 lb (181 kg)
The Bruno stair lift is fully equipped and ready for installation on delivery. Installation is possible on either the inside or outside of most staircases. The foldable seat, footrest and arm rests ensure unimpeded use of the stairway by everyone.
Call Us Today
With focus on excellent customer service, DAY Elevator & Lift ensures installation services as well as timely inspection, maintenance and repair services for all the models of stair lift systems. We witness or perform Category 1 and 5 testing for stairlifts as well.
For additional information on the Electra Ride III Stairlift and the other accessibility equipment we offer, call 800-758-5438 or send an email to sales@dayelevator.com. DAY serves the Tri-State area of New York, New Jersey and Connecticut.

Client Support
Our Product Line