Certified Pre-owned Stair Lifts
DAY Elevator & Lift offers high quality refurbished and certified pre-owned stair lifts. A leading supplier of branded mobility products, our services are available across the Tri-State area of New York, New Jersey and Connecticut. Our extensive inventory of new and certified pre-owned stair lifts includes the latest models from industry leaders like ThyssenKrupp Access, Savaria and Bruno.

For more information about our products and services, call 1-800-758-5438, or write to us at sales@dayelevator.com.
Used Stair Lifts
– Certified by Experts

DAY supplies both straight and curved stair lifts that are AC or battery operated and suited for your outdoors or indoors. Our battery-powered used electric stair lifts are reconditioned and certified by expert technicians to ensure smooth functioning.

The pre-owned stairlifts we offer include: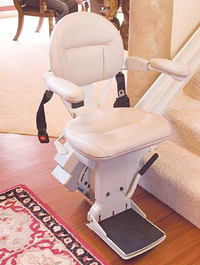 ThyssenKrupp Access Stair Lifts

Stair-Glide Stair Lift
Excel Stair Lift
Flow II Stair Lift
Citia Stair Lift
World-Class Service
All models of our used stair lifts go through comprehensive quality assurance inspection procedures. Authorized technicians thoroughly inspect the equipment, make necessary repairs and replace defective parts to ensure that the mobility device functions as well as new. The certified pre-owned stair lifts are backed by a FULL 1 year warranty.

Please use the available form to schedule a free consultation with us.

Client Support
Our Product Line