Stair Chair Lift
DAY Elevator & Lift is a trusted provider of quality accessibility products in the United States, serving the Tri State area of New York, New Jersey, and Connecticut. As a leading mobility specialist, we can help you find the right stair chair lifts that will make your life easier and more independent. We also work closely with builders, architects and designers offering efficient assistance in their projects. Our services will enable you to complete even challenging projects successfully and quickly.
Stair Chair Lifts
that Suit Your Needs

DAY offers a complete line of brand name stair chair lifts from leading stair lift manufacturers such as Savaria, Bruno, and ThyssenKrupp Access. Available in distinct styles and sizes, our product line includes both commercial and residential stair chair lift models.

From outdoor and indoor stair lifts, straight stair lifts, curved stair lifts to electric stair lifts, we have all the mobility solutions you might be looking for.

Our Product Range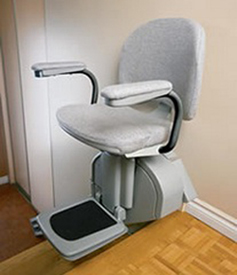 Thyssenkrupp Access

Stair-Glide Stair Lift
Excel Stair Lift
Flow II Stair Lift
Citia Stair Lift
Professional Installation and Ongoing Support
With years of experience and proven expertise, we offer the best services for our valued clients. If you're in need of stair lift installation and maintenance services, you can rely on our expert professionals, who will ensure seamless quality and efficiency. Take advantage of our FREE consultation! Fill out our online form and one of our professionals will contact you with full details about how we can help. For any enquiries, call our toll free number (800) 758 5438 or send us an email at sales@dayelevator.com.

Client Support
Our Product Line