Bruno Electra-Ride LT Stairlift
An established distributor of indoor and outdoor accessibility solutions serving the Tri-State area of New York, New Jersey and Connecticut, DAY Elevator & Lift offers premium quality products from well-known manufacturers. Our inventory of stair lift systems includes Bruno's Electra-Ride LT stairlift. This straight rail stairlift is an ideal and affordable indoor accessibility option for homes.
Convenient
Home Stair Lift
System for Residential Indoor Access

With its elegant design, advanced features and user-friendly controls, the Bruno Electra-Ride LT straight stairlift overcomes the staircase barrier quite easily.This home stair lift system allows the elderly and persons with restricted mobility to move up and down the stairways of their homes safely and comfortably.It is designed to meet all ANSI A-18.1 residential requirements. This residential stair chair lift's standard features and capabilities include: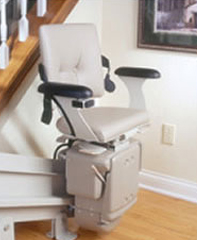 Standard swivel seat
Footplate and carriage safety sensors
Seat belt with buckle
Adjustable seat height and low footrest height
Self-locking worm gear, rack and pinion drive ensures quiet and smooth ride
Flip-up arms for easy wheelchair transfer
Contoured seat for maximum comfort
Can be installed on any side of the stairway
Optional manual folding rail at bottom
Two remote, wireless call/send controls
Two 12V batteries, charged continuously to enable operation even during a power outage
Electra-Ride LT comes with Bruno's Gold Warranty of five years for major components and two years for the parts.
Competent Installation and Maintenance
With its vast industry experience, DAY Elevator & Lift is well aware of the requirements of home owners, builders, and architects and can assist with professional installation and maintenance services for all stair lift systems. We can help you find the right home stair lift after a thorough evaluation of your site and your specific accessibility requirements. Our 24-hour on-call service is a great boon for our customers and helps keep your equipment running safely and securely all the time. We offer timely inspection and maintenance service, and also perform or witness category 1 and 5 testing for stair lifts.
For More Information
To know more about the Electra-Ride LT Stairlift and the other Bruno home stair lifts we supply, please call (800) 758-5438 or write to sales@dayelevator.com.

Client Support
Our Product Line