Stair Lifts
A dependable source for all your stair lift requirements, DAY Elevator & Lift is an established mobility equipment company serving the Tri-State area of New York, Connecticut and New Jersey. DAY supplies premium quality stair lifts from leading manufacturers to resolve stair accessibility issues in different environments. We offer homeowners, builders, developers and architects the necessary support to install stair lifts to suit their settings.
Safe and Comfortable Stairlifts
Your safety and comfort is our priority. We therefore take care to supply products that are fully guaranteed against manufacturing defects and safe for use on different stairway configurations. We supply both straight stair lifts and curved stair lifts equipped with safety features such as supportive backrest, seat belts, remote control transmitter and automatic sensors. Our product list includes both battery-powered and electric stair lifts safe for use in building interiors and exteriors.
Browse Our Product Section
Our premium brands of aesthetically designed quality stair chair lifts are just what you need to add that a touch of elegance and comfort to your settings. We can help you choose the appropriate stair lift from our extensive inventory that comprises: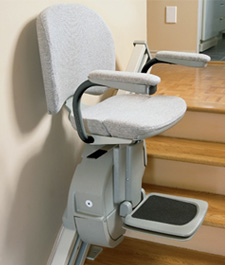 ThyssenKrupp Access

Flow II
Citia
Excel
Stair-Glide
Flawless Repair and Maintenance
DAY's team of technical experts takes care of installation, repair and maintenance services for all stair lifts. We provide Category 1 and 5 testing to ensure that your stair chair lifts function flawlessly all the time. We also buy used stair lifts. Our certified technicians repair the equipment, which is offered for sale with full 1 year warranty.
Contact Us
We take pride in our personalized customer service. Call us today at 1-800- 758-5438, or send an email to sales@dayelevator.com for a solution to your stair lift requirements.

Client Support
Our Product Line