Curved Stair Lift
Get quality curved stair lifts from DAY Elevator & Lift. As a leading elevator and lift company, we offer a range of stair lift models, ideal for your curved staircases. We offer services to customers in the Tri-state area comprising New York, New Jersey, and Connecticut. With several years of experience in the industry and hundreds of satisfied customers, we are excited to work with homeowners, contractors, builders, architects and designers.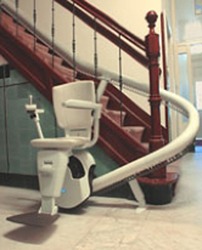 Improve the Quality of Your Life
Our highly trained personnel ensure quality products to better the quality of your life by enhancing accessibility in commercial buildings as well as residences. At DAY, we offer curved stair lifts from leading manufacturers such as ThyssenKrupp Access and Bruno. You can also find electric stair lifts suitable for your curved staircases.
Curved Stair Lifts
- Available Models
ThyssenKrupp Access

Flow II Stair Lift
Stair-Glide Stair Lift
With one of these stair lifts installed, you can go up and down the stairs in complete comfort. Advanced features incorporated in these devices make your ride comfortable and safe. We don't just sell stairlifts, but handle every aspect of your project from design to installation. Our wide range of services, coupled with the friendly support of our dedicated staff, ensure the best experience possible.
Get Your Free Consultation Now
Find out how we can help with your stair lift needs! For information and appointments, contact us at 800-758-5438 or forward an e-mail to sales@dayelevator.com. Get your free consultation now. For that all you have to do is to fill in and submit the form available on our website. We'll get back to you shortly.

Client Support
Our Product Line