Flow II Stairlift
DAY Elevator & Lift, a reputable supplier of premium quality accessibility devices in the Tri-State area of New York, New Jersey and Connecticut, offers an extensive choice of residential stair lifts. The elegant Flow II stairlift from ThyssenKrupp Access is a safe and comfortable option for any stairway configuration – straight, with corners, curved or spiral.
Flow II - Safe and Convenient Accessibility Option for Residential Indoors
With its elegant, thoughtful design, easy-to-use controls and advanced features, the Flow II allows the elderly and persons with limited mobility to access all the floors of their home easily. This home stair lift comes with an excellent lifting capacity of 275 lbs (125 kg) and variable speed of up to 0.15 minutes/seconds. With its automatic swivel seat and capability to accommodate up to a 70º angle, this stair lift can safely negotiate even narrow and steep stairways. The features and specifications of this exclusive residential stair chair lift are: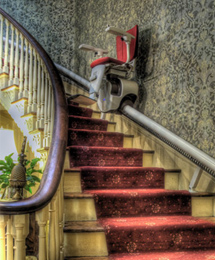 Automatic power swivel seat
29 fpm speed
Folding footrest
Retractable seat belt
0–51º slope capability
22" seat height
Battery driven (24V) rack and pinion drive system
Curved armrests for an extra feeling of security
Wireless control unit
Joystick operation
Emergency lowering device
Adjustable seat to footrest height
Self-charging with standard home power supply
Warranty options: Two years warranty for drive train and components
This home stair lift system can be customized to blend with any home interior. It is designed to fold away compactly when not in use, leaving the stairway unobstructed for other users.
Professional Installation for
Home Stair Lift Systems
With our vast industry experience, we are well aware of the requirements of extensive clientele that includes homeowners, architects, contractors and builders. Our certified technicians can install your Flow II and also take care of inspection, maintenance and repair. DAY also witnesses or performs Category 1 and 5 testing for all models of stair lifts.
For Additional Information
For more information on the Flow II stairlift and the other mobility devices we supply, call 800-758-5438 or write to sales@dayelevator.com.